10000mah power bank with the dual output of Type-C-PD, Output 20W, Micro USB-8W & a fast charging capability.
Sale price
₹1,349
Regular price
₹2,500
46% off
Unit price
per
View Product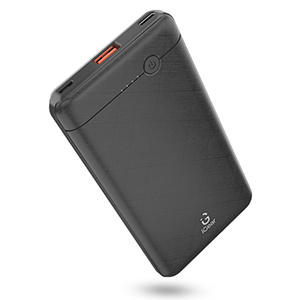 Max10 Pro 10000mah Power Bank
Have a max10 pro power bank and never let your battery run down to 0%. Grab the stylish & fast power bank that comes with multi-layer of protection along with a battery indicator & a wakeup button.

iGear Max10 Pro Power bank is a lightweight power bank that comes with tons of usability & easy to carry options. You can keep it in your pocket or bag and travel without any worries about low battery on your smartphone, earbuds, iPad etc.
Powerhouse
The iGear 10000mAh power bank Max10 pro is packed with lithium ion 10000mAh capacity to charge multiple devices on the go. Connect different devices from multiple outputs & utilize the power from the Max10 pro power bank.
Faster Input & Output
The powerful 20 watts PD and QC output excel the charging speed and on top of that you get 20W fast charging input with a 50% of charging in just 30 minutes.
Compact & Stylish Design
Max10 Pro portable power bank comes with a stylish design and easy to travel features. With this 20W power bank you can charge iPhone, iPads, Android smartphones, speakers with rechargeable battery, and other supported devices.
One for all
Yes! You can have one power bank for all types of devices, as it includes 1 micro-USB port and 1 Type C port for output. Plus, you can charge 2 devices at the same time.
Intelligent Safety Features
The iGear Max 10 Pro power bank is equipped with advanced safety features to ensure a reliable and secure charging experience. It incorporates protection against overcharging, overheating, short circuits, and other potential hazards.
| | |
| --- | --- |
| Model No | iG-1204 |
| Warranty Period | 1 Year |
| Input Voltage | (Type C) DC 5V/3A, 9V/2A, 12V/1.5A |
| Input Voltage | (Micro USB) DC 5V/3A, 9V/2A, 12V/1.5A |
| Output Voltage | (Micro USB) 5V/2.4A |
| Output Voltage | (Type C) 5V/3A, 9V/2.2A, 12V/1.67A |
| Output Voltage | (USB) 5V/3A, 9V/2.2A, 12V/1.67A |
| Wattage | 20W (max) |
| Connector Type | Type-C, Micro USB, Battery Indicator |
| Net Weight | 250 grams |
| Dimensions | 12.3cm x 6.6cm x 3.8cm |
| Battery | 10000 mAh |